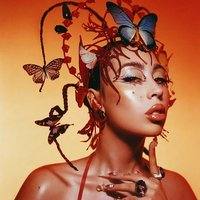 发行方:
Interscope/Geffen Records
发行日期:2023年3月3日
条形码:0602448963376
专辑类型:专辑
介质:CD
简介
Red Moon In Venus is the third studio album by Colombian singer-songwriter Kali Uchis, set to be released on March 3, 2023.
In her newsletter, Uchis explained the meaning of the album's title:
Love is the message. Red Moon in Venus is a timeless, burning expression of desire, heartbreak, faith, and honesty, reflecting the divine femininity of the moon and Venus. The moon and Venus work together to make key aspects of love and domestic life work well. This body of work represents all levels of love—releasing people with love, drawing love into your life and self-love. It's believed by many astrologers that the blood moon can send your emotions into a spin, and that's what I felt represented this body of work best.
曲目
1. "In My Garden"
2. "I Wish You Roses"
3. "Worth The Wait" Feat. Omar Apollo
4. "Love Between"
5. "All Mine"
6. "Fantasy" Feat. Don Toliver
7. "Como Te Quiero Yo"
8. "Hasta Quando"
9. "Endlessly"
10. "Moral Conscience"
11. "Not Too Late (Interlude)"
12. "Blue"
13. "Deserve Me" Feat. Summer Walker
14. "Moonlight"
15. "Happy Now"