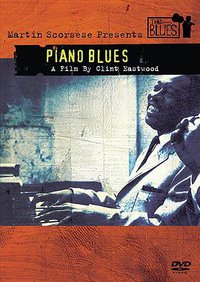 钢琴蓝调 Piano Blues
(2003)
豆瓣
主演:
Albert Ammons

/
Marcia Ball

/
Count Basie

/
Charles Brown

/
戴夫·布鲁贝克

/
Henry 'Professor Longhair' Byrd

/
凯比·卡洛威

/
雷·查尔斯

/
纳·京·科尔

/
Martha Davis

/
Willie Dixon

/
法兹·多米诺

/
Dorothy Donegan

/
Dr. John

/
克林特·伊斯特伍德

/
艾灵顿公爵

/
Linda Hopkins

/
Pete Jolly

/
Meade 'Lux' Lewis

/
Jay McShann

/
Thelonious Monk

/
Phineas Newborn Jr.

/
伊格纳奇·扬·帕德雷夫斯基

/
派恩塔普·帕金斯

/
Oscar Peterson

/
安德列·普列文

/
Otis Spann

/
阿特·塔图姆

/
Big Joe Turner

/
Muddy Waters
更多
简介
Clint Eastwood directed and hosted this final segment of the seven-part Blues documentary which was aired on PBS in the United States and then released on DVD. Eastwood has been a longtime fan of the piano and of blues and jazz artists. He once did a movie called "Bird" about jazzman Charlie Parker.
Here, Clint sits at the piano next to people like Ray Charles, Dave Brubeck, Marcia Ball, Dr. John and others and interviews them. Most aren't good interviewees and say very little, especially Charles who revealed nothing about himself or his music; absolutely no insight. Brubeck does a beautiful number but its jazz, not blues. Apparently, Eastwood forgot this was a documentary on blues. About half of the material here is more on jazz greats, like Brubeck or Oscar Peterson, Thelonious Monk, Duke Ellington, Nat "King" Cole, etc.
The best parts were clips of older and deceased piano greats like Art Tatum, who may be the best of all time, as shown here. He was awesome and I admit I knew little about the man until this episode.
Other footage highlights Otis Spann and the Chicago electric blues sound, which is more like it, to blues fans like me. Charles Brown offers some good boogie while Big Joe Turner and Jay McShann, Pinetop Perkins, Pete Jolly, Fats Domino, Professor Longhair and others contribute either live or in footage.
Meanwhile, film of a slinky woman in a sequined dress playing some boogie-woogie stuff was a highlight to me, too. Man, she could play and was fun to watch. I'd like to see more of her, or at least find out who she was. (I should have taken notes.).
Charles, via old TV tape, concludes this episode with his bluesy version of "America" which still in unique and wonderful.