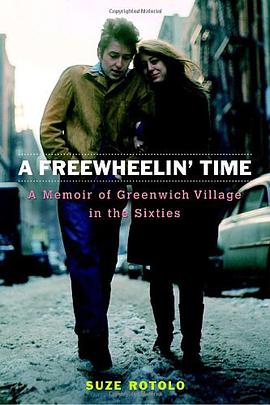 A Memoir of Greenwich Village in the Sixties
A Freewheelin' Time is Suze Rotolo's firsthand, eyewitness, participant-observer account of the immensely creative and fertile years of the 1960s, just before the circus was in full swing and Bob Dylan became the anointed ringmaster. It chronicles the back-story of Greenwich Village in the early days of the folk music explosion, when Dylan was honing his skills and she was in the ring with him.
A shy girl from Queens, Suze Rotolo was the daughter of Italian working-class Communists. Growing up at the start of the Cold War and during McCarthyism, she inevitably became an outsider in her neighborhood and at school. Her childhood was turbulent, but Suze found solace in poetry, art, and music. In Washington Square Park, in Greenwich Village, she encountered like-minded friends who were also politically active. Then one hot day in July 1961, Suze met Bob Dylan, a rising young musician, at a folk concert at Riverside Church. She was seventeen, he was twenty; they were young, curious, and inseparable. During the years they were together, Dylan was transformed from an obscure folk singer into an uneasy spokesperson for a generation.
Suze Rotolo's story is rich in character and setting, filled with vivid memories of those tumultuous years of dramatic change and poignantly rising expectations when art, culture, and politics all seemed to be conspiring to bring our country a better, freer, richer, and more equitable life. She writes of her involvement with the civil rights movement and describes the sometimes frustrating experience of being a woman in a male-dominated culture, before women's liberation changed the rules for the better. And she tells the wonderfully romantic story of her sweet but sometimes wrenching love affair and its eventual collapse under the pressures of growing fame.
A Freewheelin' Time is a vibrant, moving memoir of a hopeful time and place and of a vital subculture at its most creative. It communicates the excitement of youth, the heartbreak of young love, and the struggles for a brighter future.