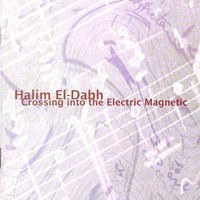 El-Dabh's work has been released in the past on Columbia Records and Folkways Recordings. "Crossing into the Electric Magnetic", however, is the most in-depth look at the composer's work that has ever been available to the public.

Many of the pieces were recorded at the Columbia-Princeton Electronic Music Studios in the 1950's, where a number of groundbreaking experiments in electronic music were conducted. There is also material that El-Dabh recorded in a Cairo radio station 1944. The Cairo recordings are arguably the earliest example of manipulated sound recordings in music history.

Unlike a lot of early electronic work, which is often reminiscent of video game sound effects, El-Dabh's work reflects the composer's wide range of musical interests. His music combines Egyptian mythology, feedback, distortion, instruments from several different cultures, environmental recordings, pure electronics, electroacoustics, tape manipulation, and sound sculpture. "Crossing into the Electric Magnetic" also includes El-Dabh's electronic opera and his collaboration with legendary composer, Otto Luening.